Bautech USA Signs Building Purchase and Lease Agreement with Okeechobee Airport Industrial Park
05/25/2020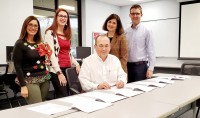 Okeechobee County, February 5, 2020 – Bautech USA was in Okeechobee County to sign the documentation for the purchase of two buildings in the Okeechobee Airport Industrial Park. Bautech USA, is a company dedicated to providing complete solutions for the construction industry, through the manufacture, distribution, installation and maintenance of precast concrete products. The technology is fully automated and will be the first of its kind in the United States. Bautech was founded in Guatemala in 2004 with a management team that has over 30 years' experience in the industry.
The facility in Okeechobee will be a clean process with no air or water contaminates and little to no waste. They will be able to produce 800 metric tons/day or 230,000 metric tons/year of precast concrete products. They currently have letters of intent for several projects for hurricane and storm damage mitigation that will be the plant's first production. Bautech USA plans to hire approximately twenty people to include executives, managers, engineers and production engineers. Renovations will start as soon as possible with the hopes of the first precast concrete products being produced in early 2020.
Sergio Prahl, CEO of Bautech USA, said "This is a very exciting day for me and Bautech USA. Everyone has made me feel very welcomed and we are looking forward to being a part of the community." Frank Irby, Chairman of the Okeechobee County Economic Development Corporation (OCEDC), was thrilled to be making this announcement so quickly after OCEDC was formed. The Okeechobee Airport Manager, Adam Hied, Airport Manager, said "Working with Bautech USA has been an absolute pleasure. I am truly excited that they have chosen Okeechobee County to open their first U.S. state of the art facility. I'm looking forward to continuing the great relationship we have built, and watching the impact they will have on the community in the years to come.