FPL Okeechobee Solar Energy Center
05/25/2020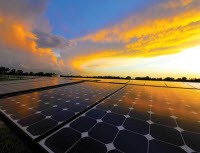 Florida Power & Light Company's proposed large-scale, universal solar energy center could have a positive impact on Okeechobee County and the State of Florida.
We deliver electricity that is cleaner and more reliable than ever before, for a cost that is lower than it was more than a decade ago. We are proud of the eight new solar sites that began powering customers in 2018, and are eager to bring the benefits of universal solar to your county.
The solar plant generates zero-emissions electricity for FPL customers – enough to power approximately 15,000 Florida homes and equivalent to removing approximately 12,000 cars from the road each year.
The perfect neighbor
Universal solar energy centers are virtually silent, require no water for operation or maintenance, and solar arrays sit low to the ground. A solar center does not require staff to operate so it won't bring more traffic to the area after construction.
Like all good neighbors, we work hard to minimize impacts from construction, which is expected to last about six to eight months.
Cost-effective energy
FPL's new solar plants are designed to result in no net cost for customers by generating savings on fuel and other costs to offset the cost of construction over their operating lifetime.
Job creation
The proposed FPL Okeechobee Solar Energy Center could create about 200 jobs during construction, which in turn will provide an economic boost to local businesses.