TRANSPORTATION AND LOGISTICS
When choosing a location for your company, it is important to be able to get your product to market efficiently. Okeechobee County is strategically located along the northern rim of Lake Okeechobee, Florida's "inland sea". This puts businesses located in Okeechobee County in the perfect position to reach a broad range of domestic and international markets, including the Caribbean and Latin America.
International Airports
Palm Beach International Airport is located just 60 minutes from Okeechobee County.
Roadways
The road system through or near the region provides convenient access to Florida and to North America via:
3 Interstate Highways
1 Toll Road
4 U.S. Highways
12 State Roads
Miles of Maintained County Roads
Railways
Railways move cargo and people thru the region.
Cargo Track Ownership
Amtrak Stations
Seaports
There are six deep water ports located within 100 miles of Okeechobee County. The closest, Port of Palm Beach is approximately 60 miles Southeast of Okeechobee County. The Port of Palm Beach is the fourth busiest container port in Florida, and the eighteenth busiest in the continental U.S. The Port of Palm Beach offers cruise and cargo services to more than 30 onsite tenants and users. At 162 acres, the Port's efficiency is unparalleled, processing more than $7 billion in commodities and 2.5 million tons of cargo. Operations include containerized, dry bulk, liquid bulk, breakbulk, heavy-lift and RO/RO cargos. For more information on Florida's ports please visit Florida Ports Council.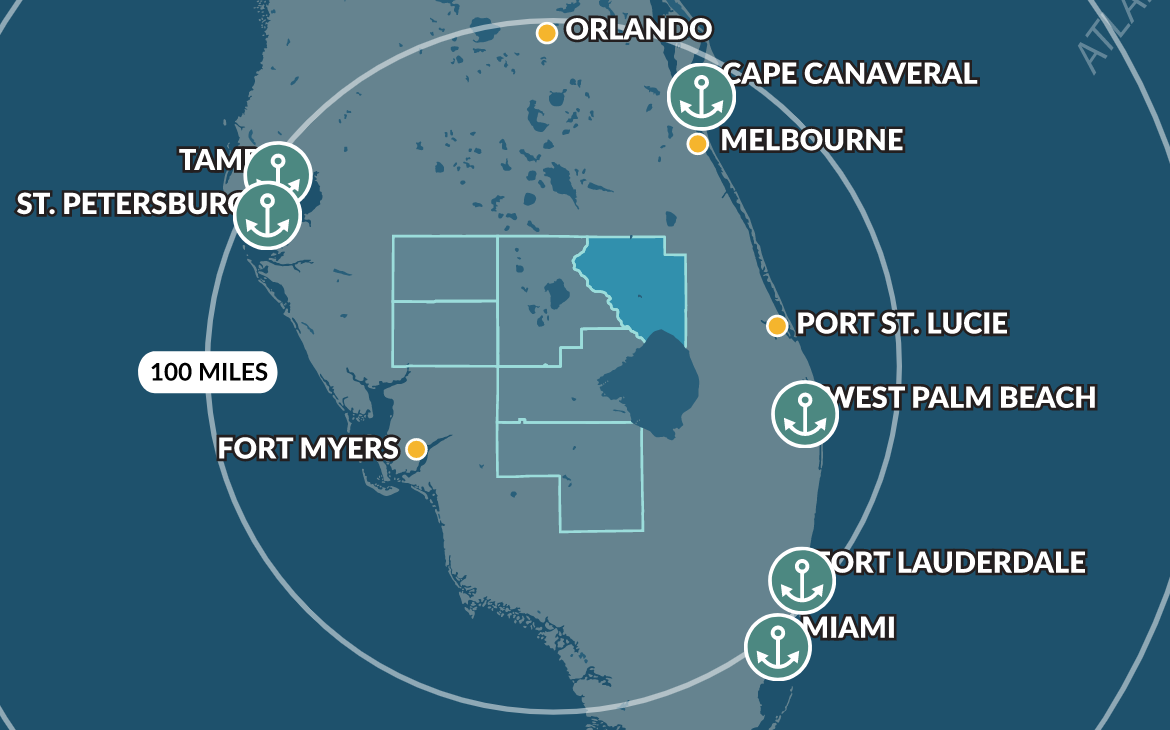 Greenways
Florida's Heartland region has one route managed by the Office of Florida Greenways and Trails. As a segment of the nationally recognized Florida National Scenic Trail, the Lake Okeechobee Scenic Trail (L.O.S.T.) is 110 miles around the lake on the USACE service road atop the 35-foot tall Herbert Hoover Dike. The United States Army Corps of Engineers maintains the dike and service road, and several primitive camping sites and covered shelters along the trail for bikers and hikers.
ADD PAGE
As you navigate our website, you can use the "Add Page to Report" button to add any page or property to a custom report that you can print out or save.