TRANSPORTATION AND LOGISTICS
When choosing a location for your company, it is important to be able to get your product to market efficiently. Okeechobee County is strategically located along the northern rim of Lake Okeechobee, Florida's "inland sea". This puts businesses located in Okeechobee County in the perfect position to reach a broad range of domestic and international markets, including the Caribbean and Latin America.
Roadways
Florida has on eof teh most extensive multi-modal infrastructures in the world, and Okeechobee County is located in the center of it all.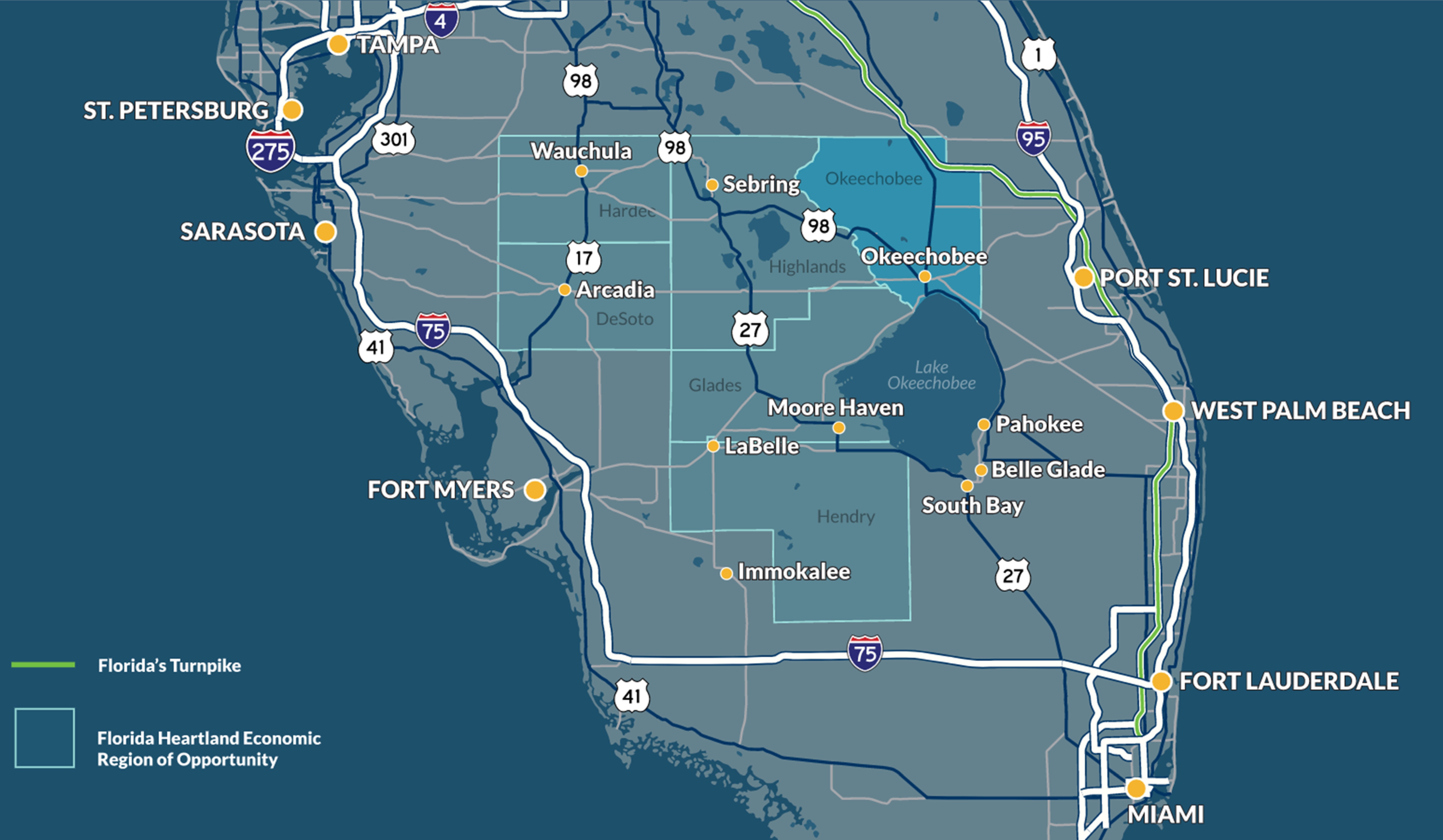 Seaports
There are six deep water ports located within 100 miles of Okeechobee County. The closest, Port of Palm Beach is approximately 60 miles Southeast of Okeechobee County. The Port of Palm Beach is the fourth busiest container port in Florida, and the eighteenth busiest in the continental U.S. The Port of Palm Beach offers cruise and cargo services to more than 30 onsite tenants and users. At 162 acres, the Port's efficiency is unparalleled, processing more than $7 billion in commodities and 2.5 million tons of cargo. Operations include containerized, dry bulk, liquid bulk, breakbulk, heavy-lift and RO/RO cargos. For more information on Florida's ports please visit Florida Ports Council.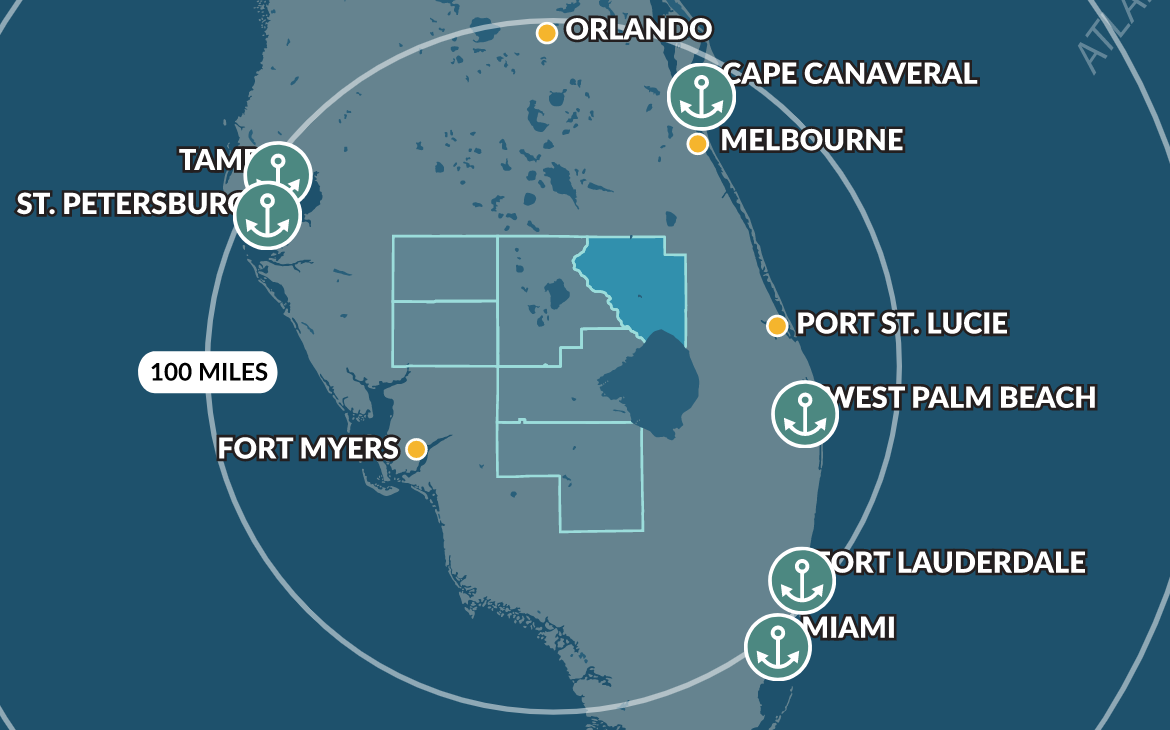 Airports
Okeechobee County Airport (OBE) serves the commercial, corporate, governmental, and general aviation needs of Okeechobee County and Southern Florida. Located approximately 45 miles west of Port Saint Lucie. The primary highway access to the airport from the north and south is via US Routes 98 and 441. Access from the west and east is by State Routes 70 and 710. Other roads in the vicinity include State Route 78 and County Route 68.
5001 x 100 ft
GPS approach on both ends
Precision Approach path Indicators
Runway End Identifier Lights
Pilot Controlled Medium Intensity Runway Lights
Non-precision markings
Rated for 40,000 lb single wheel
4001 x 75 ft
GPS approach on both ends
Precision Approach path Indicator
Non-precision markings
Rated for 30,000 lb single wheel
International/Commercial Airports
Okeechobee County's central location provides nearby access to 11 international/commercial airports. The closest is Palm Beach International Airport (PBI) is located just 60 minutes from Okeechobee County. Palm Beach International Airport, ;ocated in West Palm Beach and easily accessible from I-95, is one of the largest medium-hub airports in the United States. PBIA's services include a U.S. Customs and Immigration Port of Entry that is capable of processing 300 passengers per hour and handling aircraft up to the size of B747-400, private aircraft maintenance, air cargo, and international air. PBIA currently serves 11 airlines to 27 non-stop destinations. On average, about 6.5 million people a year pass through PBIA. Commercial airlines, including commuter aircraft, fly in and out of the airport about 56,000 times a year. General aviation, freight, and other flights average nearly 85,000 a year.
Railway
Railways move cargo and people thru the region.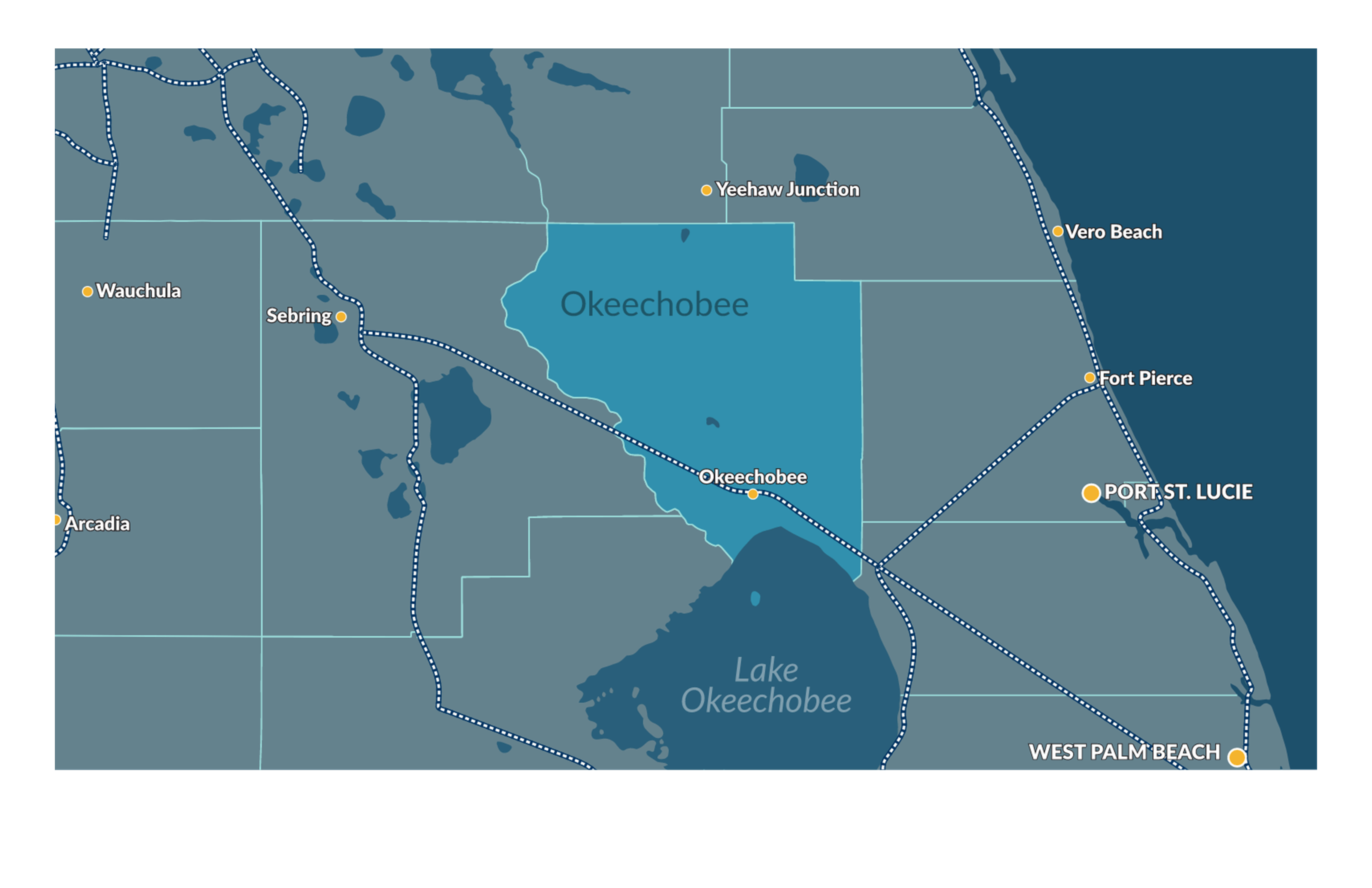 Cargo Track Ownership
Amtrak Stations
ADD PAGE
As you navigate our website, you can use the "Add Page to Report" button to add any page or property to a custom report that you can print out or save.